Welcome to the incredible city of Barcelona! I'm Laura, an enthusiastic teacher from Olé Barcelona, and today I want to share with you the best plans to make the most of this beautiful city while learning Spanish in Barcelona.
Barcelona is a city full of life, culture, and a unique blend of tradition and modernity. It's the perfect place to immerse yourself in the Spanish language and discover unforgettable experiences. At Olé Barcelona, we take pride in offering quality education, a welcoming environment, and passionate teachers who will guide you on your language journey.
One of the must-do plans in Barcelona in visiting the Sagrada Familia, Antoni Gaudí's masterpiece. This magestic church is a symbol of the city and an architectural wonder. Let yourself be amazed by its impressive facade, intricate details, and spiritual atmosphere. You'll learn about Gaudí's history and legacy while practicing Spanish with our local guides.
Another iconic place in Barcelona is Park Güell, also designed by Gaudí. This park is a treasure trove of creativity and color, with vibrant mosaics and organic shapes. Stroll through its gardens, enjoy breathtaking views of the city, and be inspired by Gaudí's imagination. Our teachers will be delighted to accompany you on visit and practice Spanish while exploring together.
For art lovers, the Picasso Museum is a must-visit. Here, you can admire the artistic evolution of the genius Pablo Picasso and discover some of his most famous works. Immerse yourself in the world of Spanish art and learn vocabulary related to it while appreciating Picasso's different techniques and styles. At Olé Barcelona, we offer Spanish classes focused on art and culture, allowing you to delve even deeper into this experience.
If you're looking for an authentic experience, I recommend visiting La Boquería Market. This market is a culinary paradise where you can discover a wide variety of fresh products and savor delicious Spanish dishes. Try the famous tapas, cured meats, and fresh seafood while practicing Spanish with the local vendors. It will be a feast for the senses!
We can't forget about the delicious Spanish cuisine. Barcelona is famous for its rich culinary culture and delightful dishes. I invite you to try authentic tapas in the city's bars, where you can taste a variety of flavors and share moments with your classmates. Additionally, you'll learn vocabulary related to food and Spanish culinary traditions.
But Barcelona is not just about tourist spots. There's so much more to discover in its charming streets and neighborhoods. Explore the narrow alleys of the Gothic Quarter, marvel at the modernist architecture in the Eixample district, and enjoy the bohemian atmosphere of El Raval. Our teachers will guide you on city walks, sharing interesting stories and anecdotes in Spanish.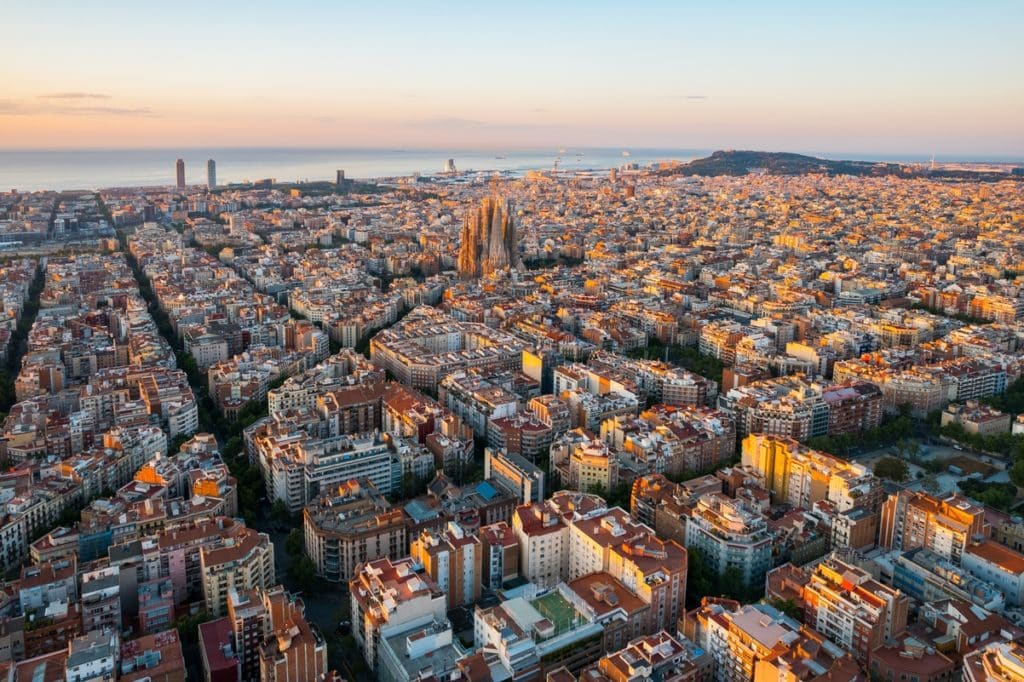 And, of course, we can't overlook the beautiful beaches of Barcelona. Relax under the Mediterranean sun, engage in water sports, or simply enjoy a picnic on the sand. The beaches of Barceloneta and Nova Icaria are popular among locals and visitors alike. Take this opportunity to practice Spanish with the locals and immerse yourself in the beach culture.
In addition to the mentioned places, Barcelona offers a wide range of cultural events and festivals throughout the year. From concerts and exhibitions to music and dance festivals, there's always something exciting to do. Our teachers will be happy to inform you about current events and help you plan your cultural agenda.
So, dear students, I invite you to join us at Olé Barcelona to learn Spanish and enjoy everything this wonderful city has to offer. Not only will you improve your Spanish, but you'll also live enriching and thrilling experiences while exploring Barcelona. We look forward to welcoming you with open arms to share unforgettable moments.