Once upon a time, there was a teacher named Laura, and yes, that's me. I am part of the incredible team at Olé Barcelona, and my mission is to encourage my students to embark on a language adventure in the beautiful city of Barcelona.
On a sunny day, I decided to gather my students to tell them an exciting story and offer them a unique opportunity. "Dear students!" I began enthusiastically, "Today, I want to share with you an incredible experience I had and motivate all of you to join us at Olé Barcelona to learn Spanish and, in the process, enjoy a visit to PortAventura."
My students became excited upon hearing my words and soon started asking questions, curious to know more about this thrilling experience. I explained to them that Barcelona is a vibrant and fascinating city, full of culture, history, and opportunities to immerse themselves in the Spanish languages.
At Olé Barcelona, we take pride in providing a welcoming and stimulating environment for students to actively learn and practice Spanish. Our teachers are highly trained and passionate about teaching, making the learning process enriching and fun.
But the adventure doesn't stop at the school. There is so much more to discover in Spain! And this is where PortAventura comes into play. This incredible amusement park, located just a short distance from Barcelona, offers an exhilarating experience that combines fun with Spanish culture.
I told my students about my visit to PortAventura and how it left me breathless. My favorite attraction was undoubtedly Dragon Khan, a roller coaster full of exciting twists and dizzying drops. The adrenaline rushed through my veins as I held on tightly to my seat! It was an unforgettable experience that I highly recommended to my adventurous students.
But PortAventura is not just about roller coasters. I told them about the different themed areas of the park, such as Mediterrània, where they could relax on the artificial beach or enjoy a boat ride on the lake. I also mentioned that they could explore the exotic Far West area or immerse themselves in Mexican culture in Mexico. The diversity of environments and experiences in PortAventura is amazing!
Imagine strolling through the park, laughing and enjoying the thrilling attractions with your classmates. It's a perfect opportunity to practice your Spanish while interacting with people from different nationalities who also visit PortAventura.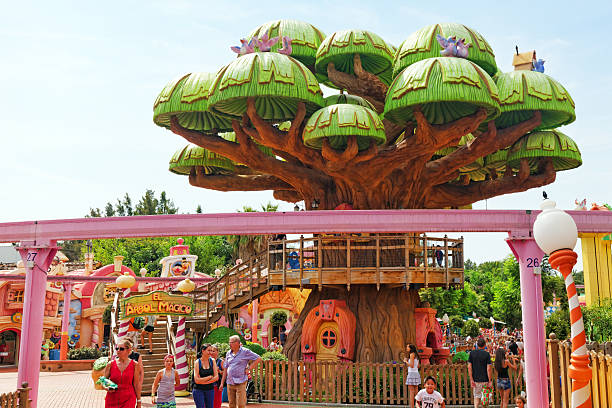 The magic of PortAventura is not limited to the attractions alone. The park also offers a wide selection of restaurants and cafés where students can enjoy delicious Mediterranean dishes and other international options. Additionally, there are numerous shops where they can purchase unique souvenirs and gifts to take home.
Surely, you may have already guessed that my experience at PortAventura was simply spectacular. I had a blast exploring the different themed areas, going on thrilling rides, and enjoying delicious food. It was an experience that will be etched in my memory, and I'm sure it will be unforgettable for all those who decide to visit this wonderful park.
So, dear students, I encourage all of you to join us at Olé Barcelona to learn Spanish and live the unique experience of visiting PortAventura. Not only will you have the opportunity to improve your Spanish and immerse yourselves in Spanish culture, but you will also enjoy exciting and fun moments in this world-renowned amusement park. You won't regret this adventure! We eagerly await you at Olé Barcelona and PortAventura to create unforgettable moments together!